You are here
Back to top
Miss Grief and Other Stories (Paperback)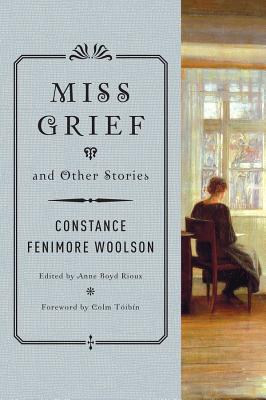 $15.95
Special Order - Subject to Availability
Description
---
To celebrate her forthcoming biography of Constance Fenimore Woolson, Anne Boyd Rioux has selected the best of this classic writer's stories.
Constance Fenimore Woolson (1840–1894) was one of the few nineteenth-century women writers considered the equal of her male peers. Harper & Brothers was so enamored of her work that the firm agreed to publish whatever she could write. In this gathering, Rioux has chosen fiction over the course of Woolson's life, including "In Sloane Street," never published since it first appeared in
Harper's Bazaar
. Woolson's stories travel from the rural Midwest to the deep South and then across the Atlantic to Italy and England. Her strong characters and indelible settings provide continuity throughout this collection as do her concerns with passion, creativity, imagination, and the demands of society. Whether portraying the keeper of a Union soldiers' cemetery in the defeated South, a woman writer whose genius goes unrecognized, or the ex-pat denizens of Florence, Woolson's deft characterization and subtlety create a broad landscape of Americans and their ways no matter where they lived.
About the Author
---
Anne Boyd Rioux, a professor at the University of New Orleans, is the author of Constance Fenimore Woolson: Portrait of a Lady Novelist and Meg, Jo, Beth, Amy: The Story of Little Women and Why It Still Matters, and the editor of Woolson's Miss Grief and Other Stories. Rioux has received two National Endowment for the Humanities Awards, one for public scholarship, and lives in New Orleans.

Colm Toibin is currently the Irene and Sidney B. Silverman professor of the humanities at Columbia University and succeeded Martin Amis as professor of creative writing at the University of Manchester.
Praise For…
---
An American realist of a high order. . . . The writing in all of [Woolson's stories] is remarkably good, but it is the American stories that will send the reader looking for more of Woolson's work.
— Vivian Gornick - The Nation

With a forward by Tóibín and an introduction by Rioux, this volume carefully sequences seven of Woolson's notable stories. . . . It is striking just how accessible Woolson's style is throughout. . . . As Rioux's work has made plain, Woolson proved her detractors wrong.
— Rebecca Foster - Los Angeles Review of Books

[Woolson was] more than the smitten confidante of Henry James. . . . 'Solomon' and 'St. Clair Flats' are particularly fine, meticulously delineating the natural beauty of eastern Ohio and the Great Lakes Region.
— Brenda Wineapple - New York Times Book Review

Woolson's writing was never better than when she was grappling with the ambivalence of men like [Henry] James toward women like herself. . . . Her short stories demonstrate irony, force and feeling that occasionally surpass the stories of Edith Wharton and Howells, rivaling 'the Master' himself even as they take aim directly at his privilege and presumptions.
— Amy Gentry - Chicago Tribune

Like Jane Austen, Woolson's protagonists knew and understood their place within the rigid social ladder of acceptable convention, and her portraits are vivid, picture perfect snapshots of that time and place . . . Rioux reintroduces an American master of regionalism and local color.
— Nancy Powell - Shelf Awareness

A potent . . . [and] exciting volume. . . . These finely-crafted, place-rooted stories are startling in their mythic atmosphere, vital descriptions, and elegiac tributes to lost worlds. They are charged with a quietly ferocious tension between old-fashioned structures and the progressive psychological portraits shaped by Woolson's compassion and penetrating vision. . . . Woolson belongs in every American literature collection.
— Booklist, starred review

An intriguing collection of seven of Woolson's sophisticated, modernist short stories . . . small but captivating. . . . This collection includes stories set in the South, the Great Lakes, Florence, and London, reflecting Woolson's cosmopolitan worldview, and embodying a strong sense of place with an equally strong sense of character.
— David Holmberg - Bookslut.com